Credits: Lilium
Well, taxis are no longer just yellow cars with a cab checker. More than that, cabs are no longer just Uber and Bolt, which we quickly call with our smartphones. The same can be said about the approach to courier services. Soon, urban companies and postal organizations won't be restricted to surface roads. Of course, we are talking about technology startup projects of VTOL and STOL — electric vertical take-off and landing and short take-off and landing.
Enthusiasts around the world are working on vehicles that will become an important element of modern air mobility. These vehicles will soon be moving over cities, delivering their drivers and passengers without tedious traffic jams and difficulties in navigation. And its not just about ambitious fanaticism, but quite real technology. To see how this technology works, you can take a look at the progress and results of Volocopter, Lilium, Joby Aviation, and other startups.
According to those developers, this technology has the potential to revolutionize air transportation and delivery, making it faster and more accessible than ever before. Several Israeli companies and startups are at the forefront of this technology, developing innovative VTOL drones and aircraft for a variety of applications. So let's take a look at them and determine which Israeli developers you should follow this year.
Urban Aeronautics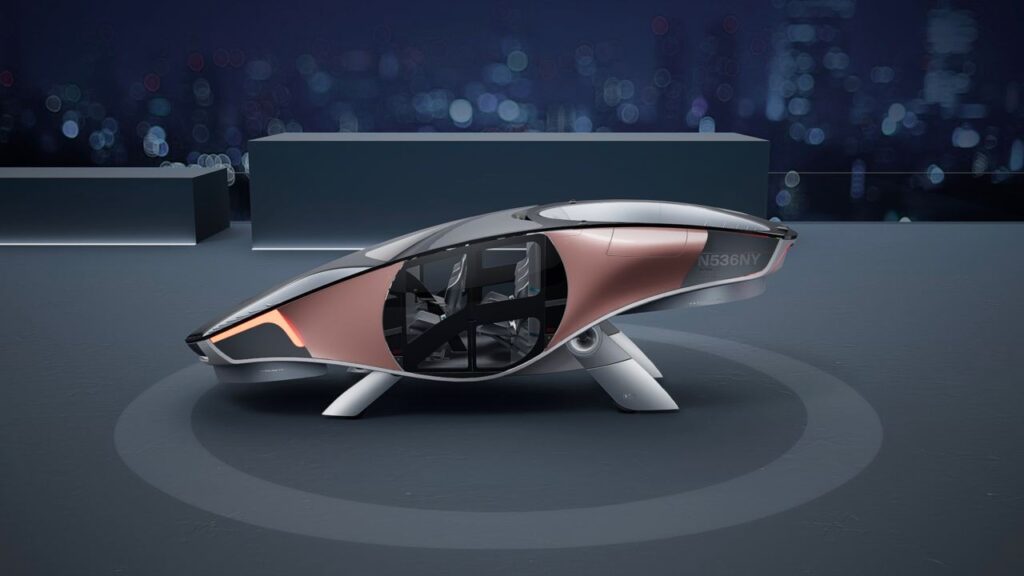 One of the largest VTOL developers in Israel is the startup Urban Aeronautics. This startup is an aerospace company based in Yavneh, Israel, that specializes in the development of advanced vertical take-off and landing (VTOL) aircraft for urban and military applications. The company was founded in 2001 by Dr. Rafi Yoeli, an aerospace engineer and entrepreneur with more than 35 years of industry experience.
Urban Aeronautics' flagship product is the CityHawk, a VTOL aircraft designed for use in urban environments. The CityHawk is powered by two electric motors and can carry up to six passengers or 500 kilograms of cargo. The aircraft is designed to take off and land vertically, making it well-suited for operations in tight spaces where traditional helicopters cannot operate.
Urban Aeronautics has also developed a military version of the CityHawk called the Cormorant. The Cormorant is an unmanned aerial vehicle (UAV) designed for a variety of military applications, including reconnaissance, surveillance, and medical evacuation. The aircraft can carry up to 500 kilograms of cargo and can fly at speeds of up to 185 kilometers per hour.
In addition to the CityHawk and Cormorant, Urban Aeronautics has developed a number of other VTOL aircraft, including the AirMule, a UAV designed for military logistics operations, and the X-Hawk, a multirole VTOL aircraft designed for use in emergency medical services, search and rescue, and other urban missions.
Overall, Urban Aeronautics is a pioneering aerospace company that is at the forefront of the development of advanced VTOL aircraft for urban and military applications. Its innovative designs have the potential to revolutionize transportation and emergency services in urban areas and provide new capabilities for military operations.
PenTaxi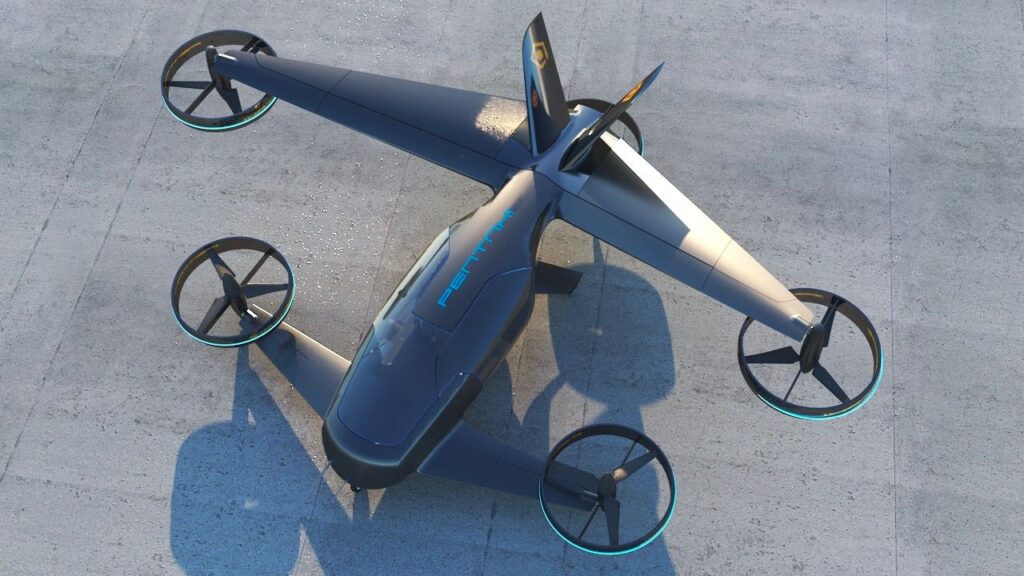 The startup PenTaxi was founded in 2018 and is based in Netanya. This company claims to have been founded in order to bring this future to life with the world's most advanced self-driving taxis and cargo aircraft. PenTaxi разрабатывает сразу несколько автономных транспортных средств с нулевым уровнем выбросов.
One of them is the PentaxiPas. It is an eVTOL with a wingspan of 12 meters and five rotating electric motors. This thrust vectoring machine has a large cabin for four passengers and is capable of carrying up to 400 kilograms. The PentaxiPas has a top speed of 240 km per hour and a range of 320 km.
Another vehicle is the PentaxiGo. This autonomous eVTOL is designed for cargo and logistics operations. The machine will come in three versions: e-GO3, e-GO5 and eGo10. The first will carry 20 kg each up to 100 km, the second will carry 100 kg up to 150 km, and the third will carry 400 kg up to 350 km.
PenTaxi has already built many working prototypes of its eVTOLs, developed its own electric motor, and conducted more than 20 test flights. This year, the startup plans to present a proof of concept and enter into strategic partnerships for PentaxiGo cargo models. If PenTaxi sticks to its schedule, eVTOLs will go into mass production as early as 2025.
AIR One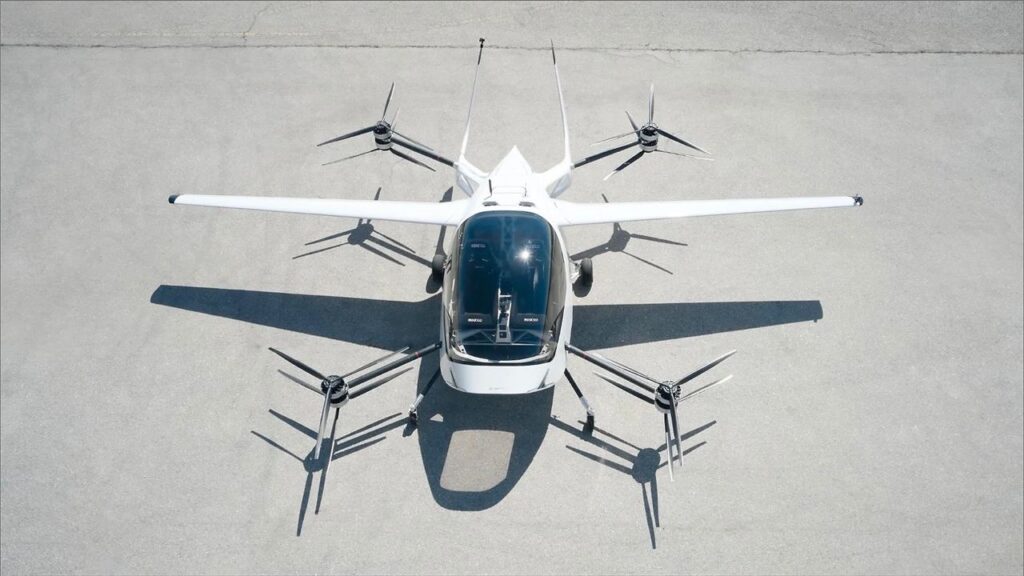 AIR is another Israeli startup specializing in eVTOL. This company was founded in 2017 and now has an office in Pardes Hanna-Karkur. The startup is developing a flying car for private consumers who will use eVTOL for short but fast trips.
The startup's first model is called the AIR One. It is a two-seat vehicle with an all-electric engine. The car promises a range of up to 177 km, a top speed of 250 km/h, and foldable wings for easy transportation. Like other eVTOLs, the Air One will be able to take off and land without a runway. Any flat surface will do.
The first flight of the AIR concept prototype took place in 2017, and the startup launched a functional prototype last year. Now the company is aiming to certify its technology and launch mass production. If the AIR plan is realized, the first AIR One customers will get their eVTOLs as early as 2024.
Gadfin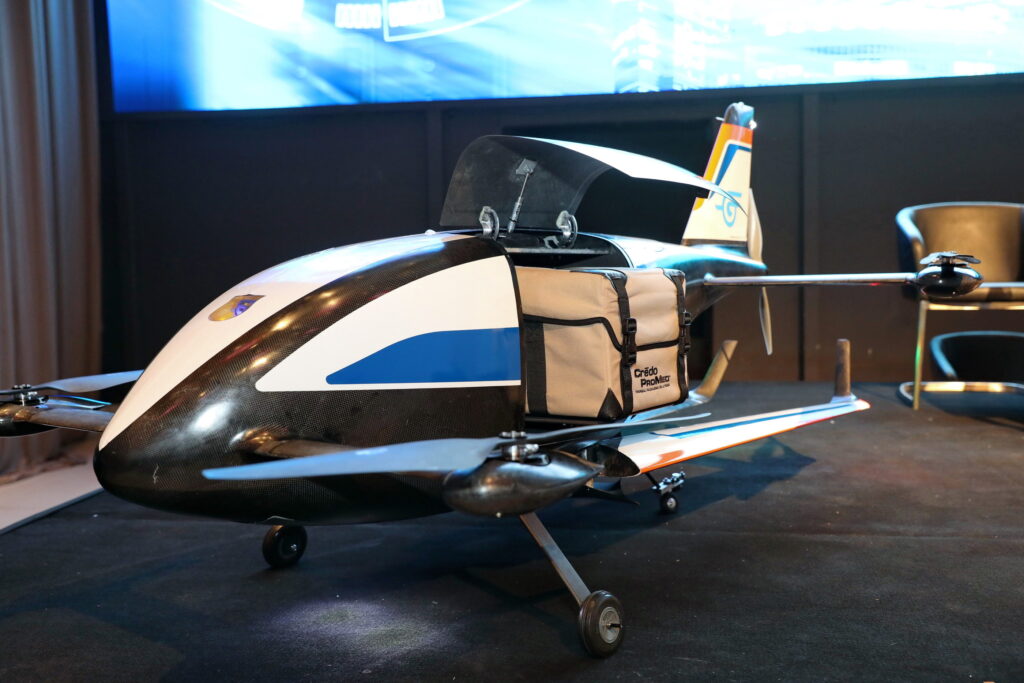 Of course, vertical takeoff and landing technology can be useful not only for transporting people. Delivery and service economics is another big field for VTOL vehicle developers. The next company on our list, Rehovot-based Gadfin, is working in this field.
The startup is developing a complete platform consisting of two vehicles and a ground station. The first model, Spirit-One, is a model that can deliver payloads of up to 5 kg in 30 liters compartments for a ground-breaking range of 250 km at a speed of 100 km/h. The second is the Spirit-X. This model is a more powerful VTOL. It is capable of flying up to 500 km without refueling, its maximum speed is 150 km/h, and its payload is up to 150 kg in 1000 liters.
Both vehicles are hydrogen-powered, come with a full autopilot, patented folding wings, and have an automated parcel loading and unloading compartment. They generate no harmful CO2 emissions during their voyages.
The third Gadfin technology is the Automated Ground Station. AGS is a platform that allows machines to operate in an unmanned mode, process parcels, and control the power system. It can be installed on any flat surface – like the roof of a hospital or the deck of a ship. The entire system works autonomously and needs no human support.
Gadfin is targeting the B2B sector. The company wants to offer its technology to private and public enterprises that are in dire need of UAV support. The startup's VTOL machines promise to help hospitals with drug delivery, businesses with environmental monitoring, and more. Gadfin plans to certify and commercialize its technology in the near future.
Airwayz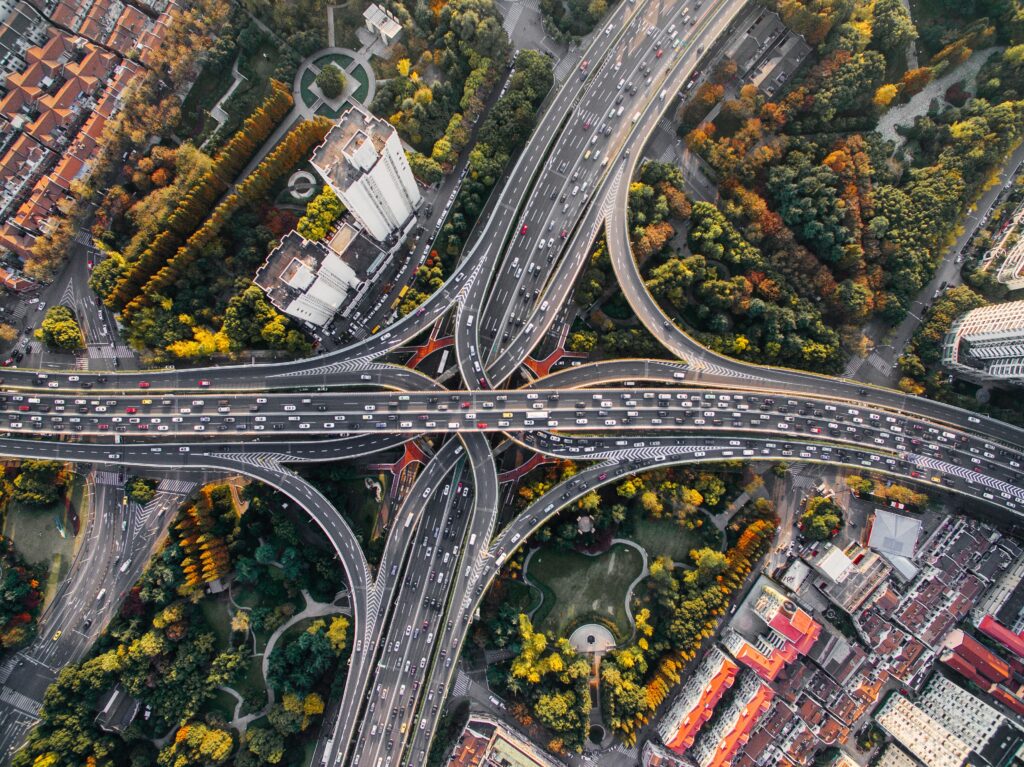 Airwayz is an unusual technology startup on our list. This company is not developing air taxis or drones that can quickly deliver packages to remote regions. Instead, the Tel Aviv-based company is doing something more significant – Airwayz plans to become the leading provider of management systems for unmanned traffic management (UTM) and drone fleets.
The startup's cloud-based management platform allows users to monitor and operate heterogeneous drone fleets in real-time while providing a safe and efficient integration into the airspace. This platform uses artificial intelligence and machine learning algorithms to optimize flight routes, manage air traffic flow, and ensure safe and efficient operations.
In addition to its UTM platform, Airwayz is also working on developing a range of UAS hardware and software solutions, including autonomous control systems, flight planning tools, and communication protocols.
The Airwayz dynamic UTM/USSP provides a safe and effective method for managing multiple fleets of drones in the lower airspace. Within a five-second window, the system can independently determine flight validation, approve new routes, and provide suggestions. The UTM constantly monitors the airspace for both manned and unmanned aircraft to avoid potential risks, and can autonomously redirect drone flights already in progress.
This allows drone operators to focus on more critical events while maintaining the ability to override the system's decisions if necessary. With Airwayz UTM, lengthy approval cycles for every flight and costly single-operator airspace are no longer necessary. Airwayz is already working with several major partners to spread its technology in Israel and around the world.
___
These are just a few examples of Israeli companies working on air taxi development. As the field of urban air mobility continues to grow, it is likely that more Israeli companies will emerge in this space. From drones that can deliver goods to personal air taxis, these companies are revolutionizing the way we think about air transportation. As the technology continues to develop, we can expect to see even more innovative VTOL solutions from Israel and around the world.